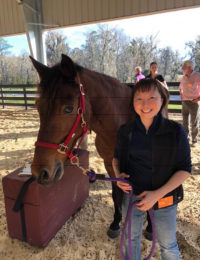 Education: University of Saskatchewan, University of Calgary, Banff School of Fine Arts, Western College of Veterinary Medicine
Although Helen always knew that veterinary medicine would be her future, she took a creative route to achieve her goal. She started her formal secondary education with a bachelor of science degree in agriculture with a major in animal science from the University of Saskatchewan, then balanced this out by pursuing a degree in piano performance with a minor in microbiology from the University of Calgary. She also spent a summer at the prestigious Banff School of Fine Arts (now The Banff Centre) studying under Willard Schultz. Although this satisfied her artistic nature, Helen decided she needed to pursue her real passion of becoming a veterinarian. She realized this goal four years later, in 1990, when she graduated with her Doctorate of Veterinary Medicine (DVM) from the Western College of Veterinary Medicine in Saskatoon. After spending several years in mixed practice in northern Ontario, she felt it was time to head west.
In 1995, Helen established the Merecroft Veterinary Clinic. Her vision was to create an integrative wellness centre that would encompass both conventional cutting-edge technology and complementary medicine. With this goal in mind, she started her formal training in acupuncture, chiropractic, and homeopathy. Helen is a certified member of the International Veterinary Acupuncture Society. To continue providing her patients with the most up-to-date care, she enhances her knowledge by taking advanced courses every year. Helen is also a member of the American Veterinary Chiropractic Association and has continued with studies in neurology with chiropractic neurology pioneer Dr. Carl DeStefano. She has studied advanced homeopathy with renowned expert Dr. Richard Pitcairn. In addition, she is a member of the International Veterinary Academy of Pain Management and has recently become a Certified Canine Rehabilitation Therapist (CCRT) through the Canine Rehabilitation Institute in Florida and now offers canine rehabilitation therapy at the practice to further benefit all her patients. In recent times Helen has become certified in Equine Veterinary Medical Manipulation and Equine Rehabilitation and Performance Medicine through the Integrative Veterinary Medical Institute associated with the Chi Institute in Reddick Florida.  She continues her acupuncture studies in advanced Equine and Canine Techniques.
In her spare time, Helen loves reading and spending time with her family of five dogs, five cats, five horses, and her exceedingly patient husband, Gary.